It's not often that you get a monitor that has all the bells and whistles that you could ever possibly want, for a price that's not too steep on the wallet either. The Gigabyte Aorus FO48U aims to be the monitor that does just that. What makes it special? Well, I was about to find out.
What's so special about the Aorus FO48U?
For starters, the Gigabyte Aorus FO48U is a 48" (technically 47.53") display boasting some serious specs, all packed into a considerably slim profile. At that size you might mistake it for a TV, but rest assured this is a gaming monitor. Added to that, the display has every possible feature you could want. Gaming at ultra high resolution? Check. High refresh rate? Check. Looking to step up your home movie watching experience? Check.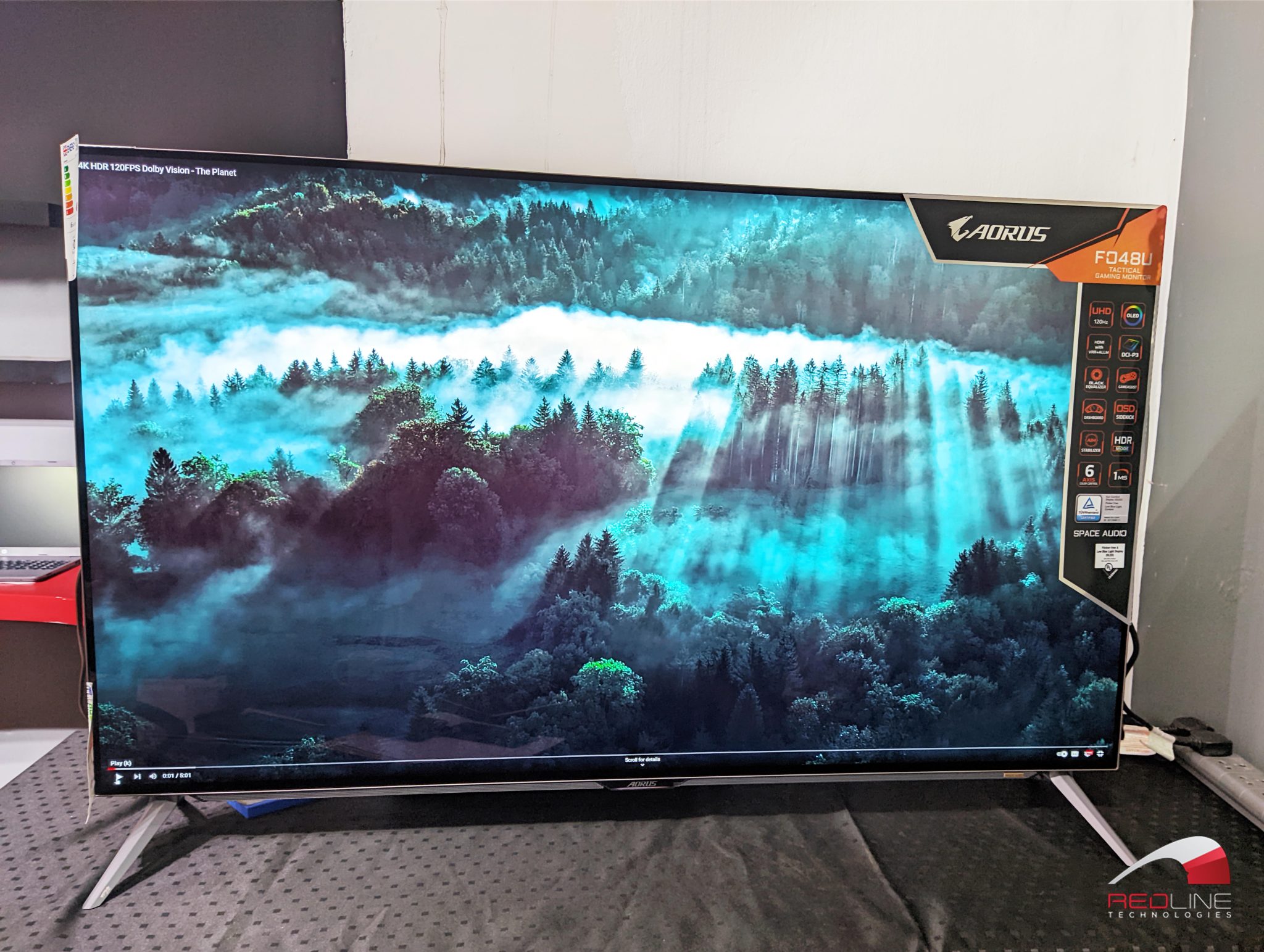 Delving deeper into the specs of the FO48U, you have a 48", 4K (3840×2160), OLED, 120Hz display with a plethora of ports and connectivity to satisfy even the most hardcore of gamers. Speaking of connectivity, the Aorus FO48U packs 2 HDMI 2.1 ports, so you can hook up a PC, PS5 or XBox Series X and have it run at 4K 120Hz with no issues. It also has one Display port 1.4 and one USB Type-C port. It doesn't stop there though. You also get two USB 3.0 ports, a USB upstream port and accompanying cable, along with headphone and audio line-out connectors.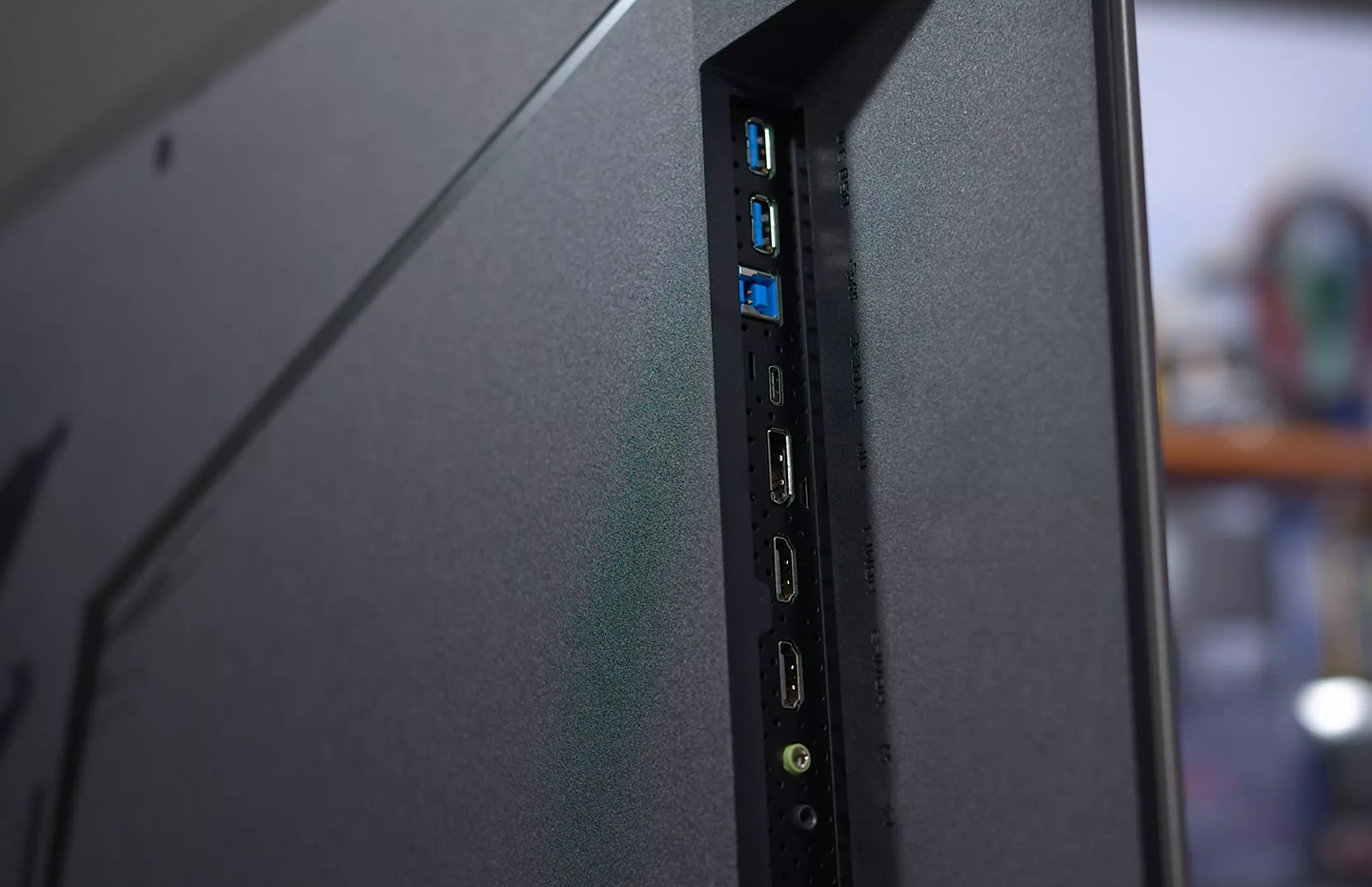 The Aorus FO48U supports 10-bit color depth with 98% DCI-P3 color space and 130% coverage of the sRGB spectrum. The OLED panel does away with the need for backlighting as OLED displays control light through individual pixels. So when you want things to get really really dark, you will get true blacks and an infinite contrast. Long story short, games, movies and any other content will look jaw-droppingly amazing.
Setting up the Aorus FO48U
If you don't want to spend time navigating the single button on the bottom of the FO48U, Gigabyte also includes a handy remote control, as well as their OSD Sidekick feature. You can even perform firmware updates and backup said updates as well. Similar to how you can monitor your CPU/GPU temps and framerate with Fraps or MSI Afterburner, the Aorus FO48U features an extensively informative dashboard that runs as an overlay so it won't be blocked by any game or intensive 3D application. The FO48U can also be wall-mounted via a standard and supported VESA mount and has a power supply built into the body of the display as opposed to having a bulky adapter dangling around.
For FPS players, the Aorus Aim Stabilizer decreases motion blur, giving you enhanced clarity to get those perfect headshots. The monitor also supports AMD FreeSync Premium so as long as your game's framerate doesn't drop below 48fps and is between 48-120fps, gameplay will be butter smooth. The Aorus FO48U also has a built-in soundbar with a variety of profiles such as FPS, Movie, Concert and VS. Each profile is customized to bring out the best of it. In terms of loudness, while you won't expect jaw-dropping bass and crystal clear mids and highs, as far as monitor speakers go, they're quite good.
The Aorus FO48U is not just a Gaming monitor
For the productivity junkies, the Aorus FO48U also includes a KVM (Keyboard, Video and Mouse) switch. This means you can use the USB type-C port on your Aorus FO48U to control your mobile phone, tablet or laptop, all with just one keyboard and mouse. Simply connect your keyboard and mouse to the Aorus FO48U's USB 3.0 ports, plug the displayport and USB-B to your PC, and then the Type C to your laptop/tablet. The Type C cable also has power delivery so it can charge your laptop as well. Finally, using the FO48U's KVM switch, you can use the keyboard and mouse on your PC, as well as your laptop/tablet, allowing you to multitask and switch between devices to copy/paste text etc. Once you're done, just remove the Type-C cable from your laptop, that's it.
Testing the Aorus FO48U was indeed a treat for the eyes. The colors are vibrant and rich. The 120Hz refresh rate makes everything from simply opening folders and navigating Windows super smooth, and watching HDR content just hits all the sweet spots. All in all, be it watching videos, or playing the latest games, the Aorus FO48U will handle everything perfectly.
A few pointers about the Aorus FO48U and OLED panels
But that's not to say there are no downsides. At the end of the day, the FO48U is an OLED panel and with that comes a set of caveats, the major one being image burn-in. Leaving an OLED screen with static content such as a wallpaper or an image is generally not advisable. Gigabyte however have implemented a number of safety measures such as APCS (Auto Prevention Compensation System), AOCS (Auto Organic Compensation System), ASC (Auto Static Control) and ATC (Auto Tactical Control) all of which are design to extend the life of OLED panel by running various pixel refresh cycles after extended hours of use, after the device has been turned off.
As with any OLED panel, there are some things you can do to extend the life of your OLED display. For example, if you're having a lot of static elements on screen, try reducing them. For games and movies this shouldn't be too much of an issue as there's constant movement. Just make sure that you don't leave your game on the pause screen for hours on end. That could be problematic, and lead to screen burn-in. Just use normal burn in mitigation techniques like a non-static background, hide icons, and hidden taskbar and you should be perfectly fine.
In conclusion, is the Aorus FO48U worth it?
If you're looking to splurge on an OLED display that has a lot going for it, the Aorus FO48U is definitely worth taking a look at. While its dimming feature (although somewhat aggressive) does make sure that the panel's life is extended, it may not be the most suitable for productivity and web browsing, but to be honest, you'll be getting this for gaming, and that it does beautifully. Its 4K, has a high refresh rate and has stellar picture quality and HDR playback capabilities. Features like the KVM switch and Onscreen Display (OSD) and other gaming functionality only add more icing to this cake.
While the standard warranty for the Aorus FO48U is one year, the folks over at Redline Technologies and Winsoft Technologies are carrying out a special promotion, adding an additional two years of hardware warranty, bringing the whole thing to a comprehensive 3 year warranty. You can check out the Gigabyte Aorus FO48U Display at Redline Technologies or Winsoft Technologies or any other Gigabyte Aorus branded reseller.