Intel's 10th Generation of processors are on the verge of being launched to consumers and perhaps have already been launched as review samples. So this means that we can expect to use these for a while, right? Well, not exactly. While consumers are eagerly waiting to build their new 10th Gen based systems, a sneak peek of Intel's 11th generation processors codenamed Rocket Lake might have already been leaked.
The next best thing since Skylake?
In case you didn't know, Intel's processor architecture hasn't really changed much since Skylake which was released in 2015. There have been minor changes, but nothing noteworthy. But Rocket Lake aims to change that.
According to APISAK, a Twitter user and somewhat of a hardware detective, one of Intel's new Rocket Lake processors was benchmarked and APISAK was able to dig through and find a screenshot of the results.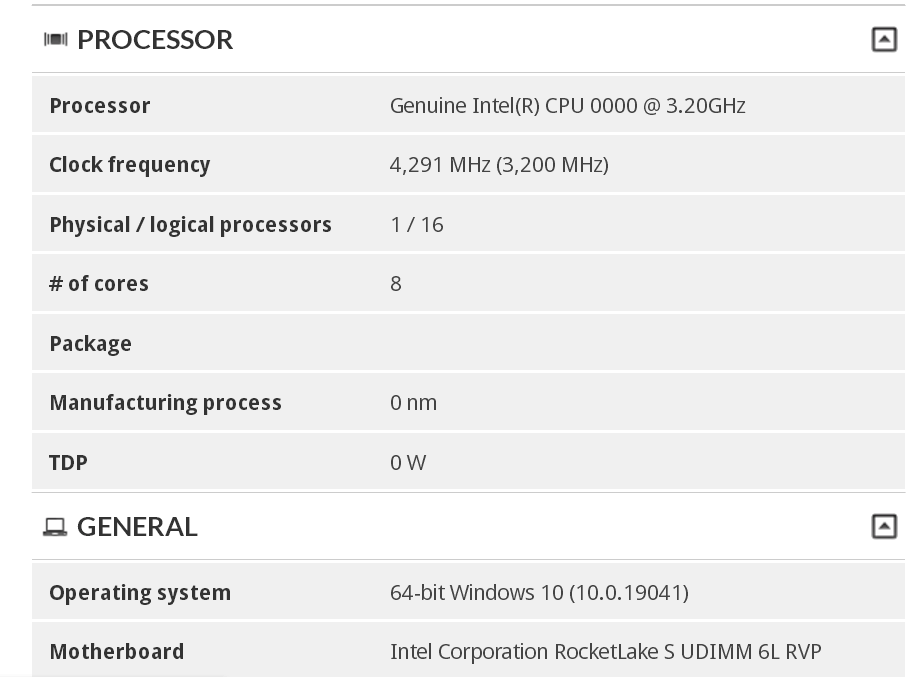 As you can see above, the screenshot shows an unnamed Intel processor with 8 cores and 16 threads clocked in at 3.2Ghz that turbos upto 4.2GHz. The motherboard in use is one of Intel's very own reference platforms that reside inside Intel's secret overclocking lab.
According to APISAK's findings, the Rocket Lake processor has been put through 3D Mark Fire Strike and Time Spy, racking up a score of 1746 and 605 points respectively. While these aren't really killer scores (average at best), the processor is a very early engineering sample so its highly likely that it will differ from the final finished product.
Lower clocks, but higher IPCs
While Intel is expected to base the Rocket Lake processors off the 14nm process, a new architecture would also mean that the chips don't need to run as fast as Comet Lake-S as there would be an improvement to their IPC or Instructions per Clock rate. So a lower clock speed would also mean less heat generation as well.
Willow Cove would be the name of the new architecture for Rocket Lake. The architecture is also slated to be used by Intel's upcoming Tiger Lake CPUs for notebooks, but at 10nm. That would (finally) get the ball rolling for Intel and we could quite possibly see Intel's 12th-Gen S-series processors featuring the new 10nm architecture. Does this mean tick-tock is back? Well we'll just have to wait and see.
In terms of hardware compatibility, it looks like good news to people investing in the current Z490 motherboards. If the rumors turn out to be true, Rocket Lake-S will also work on these motherboards alleviating the need to invest in a new motherboard all over again. With Z490 finally adding support for PCI-Express 4.0, this makes upgrading a lot more cost-effective.
If you're looking to upgrade to an Z490 based system, check out our website, Price List and also stay tuned to our Facebook Page.